The ICL (Implantable Contact Lens) is a cutting edge technology for refractive error correction which is ideal for person looking for removal of glasses in case person is not fit for Lasik Procedure. In this process a soft, flexible gel-lens used for the permanent correction of myopia (nearsightedness), made up of a collagen copolymer material.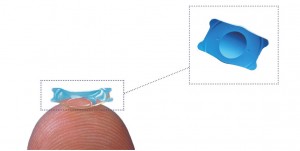 ICL is a revolutionary technique used for the curing of following diseases:-
Myopia between (-) 18 to (-) 30 diopters
Hypermetropia between (+) 6 to (+) 15 diopters
For unfit patients of Lasik
ICL or Implantable Contact Lens in a simple language is a kind of contact lens which is implanted inside the the eye and does not require frequent removal like a normal contact lens. This lens has numerous advantages including its correction of the widest range of myopia (near sightedness), hyperopia (far sightedness) and astigmatism (cylindrical power). This procedure generally takes less than 30 minutes to 40 minutes. Before starting the surgery, the ICL must be loaded into the microinjected cartridge. There lenses are checked under an operating microscope to ensure correct anterior-posterior orientation before they are loaded into the injector to avoid any damage to the parts of the eyes.
A person is eligible for the ICL process are having:
Age between of 18 and 45 years.
dry eyes, severe myopia,
Unfit LASIK candidate
Nearsighted or farsighted, including those with mild, moderate, and high power with or without occurrence of astigmatism.
Should not be pregnant during the process.
Not suffer with glaucoma
large pupils
Generally Lasik Surgeon chooses ICL where patient is unfit for Lasik Laser Eye Surgery thus ICL process is not just an alternative; it is the best choice for superior vision quality. After this procedure, people can immediate use their eyes. The recovery period is 1–2 days approximately with little discomfort. People can go to work the next day of the surgery. After surgery patient should visit the doctor regularly for several months to cure successfully.
After ICL surgery, there are several risks associated with it such as the development of small cloudy areas of opacities on the crystalline lens which is occurring due to the touching of the lens during the surgery, increased rate of endothelial cell loss from the back surface of the cornea, and increased pressure inside the eye. Here to minimize pressure in the eye specific eye drops are used. Thus ICL process is an important surgery technology in the field of eye surgery.