Keratoconus is the disorder of the cornea, in which the cornea takes shape like a cone, resulting in distorted vision & may result to permanent damage of cornea of the eye. To remove such kind of disorder C3R and INTACTS technology are used which are as follows:
C3R
In the C3R surgery the following steps are taken as:-
Doctor tests your eyes and takes steps according to your test report.
Surgeon will place custom-made riboflavin eye drops are applied to the cornea of the eyes.
A soft corneal suction ring is applied to the eye, holding the eye in place.
The time taken to perform C3R procedure is 20 to 30 minutes.
C3R procedure causes the collagen fibrils to thicken, stiffen, and crosslink & reattach to each other,
This Process makes the cornea stronger and more stable
It permanently stops the progression of Keratoconus disorder.
This surgery is recommended when Keratoconus disorder occurs. Therefore need to consult Keratoconus Specialist regularly.
Once the C3R procedure is done, surgeon places a soft bandage contact lens on cornea. The contact lens can be put off after one or two days.
The main advantages of C3R technology are as:
Simplest procedure
Permanently stops the progress of Keratoconus disorder
No need of  handling of lenses every day
No stitches during  the surgery
Fast recovery
Safest one.
INTACS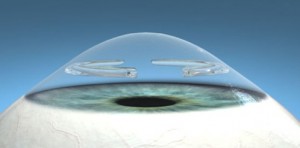 Intra Corneal Rings or implants, is also called INTACS are a minimally invasive surgical procedure done primarily for the treatment of keratoconus. Surgeon inserts a thin semi-circular rings into the mid layer of keratoconus cornea. It flattens the cornea by changing the shape and location of the cornea & improving the vision. The bellowing diagram shows the process
INTACTS procedure involve following steps which are as follows:-
Doctor tests your eyes and takes steps according to your test report.
Anesthetic eye drops are used to moisture the eye, which is held open throughout the procedure to stop blinking.
A single, small incision is made in the surface of the cornea of the eyes.
To stabilize your eye and to ensure proper alignment of the INTACTS inserted, the centering guide is placed on the surface of your eye. During this time, inner layers of the cornea are gently separated in a narrow circular area to allow for INTACTS placement leads to completion of the procedure.
Keratoconus patient after INTACS procedure need to visit for follow-up visits in order to monitor the healing process. Even after a successful procedure, glasses or contact lenses still required to provide you with good vision. But there are some risks, including infection & difficulty with visibility.