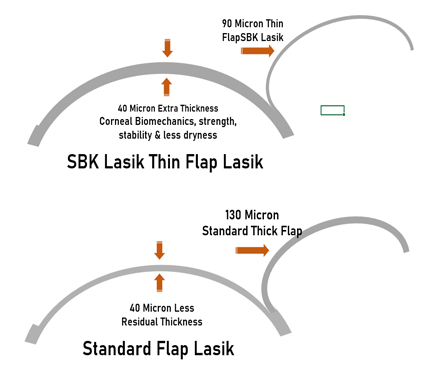 Thin Flap Advanced Lasik Surgery Pune
SKB Thin Flap Lasik in Pune simply used for correcting near and far-sightedness in vision. It is also referred as laser eye surgery or laser eye correction.
SBK creates précised thin flaps to ensure safer and faster vision recovery. The main idea of this treatment is to preserve the integrity of cornea, for those, who are going through LASIK surgery in Pune. Best in class elements of flap correction, along with number correction technology, in emerged in the advanced process. A significant jump in technology saving corneal thickness.

Traditional LASIK surgery creates a flap, with the thickness of 130 to 180 microns; however, While the SBK Flap surgery ensures to introduce thinner flap, with the thickness o 90 to 100 microns.
LASIK technology has experienced a line of improvement, advancements and modification, in the time, less than 20 years. These modifications have invented standard LASIK, customized LASIK as well as Advanced Lasik. Surgeons have adopted better technologies, to eliminate the completions of treatment process, and unveiled techniques like, SBK LASIK, Femtosecond Laser and much more, to achieve the treatment convenience. Doctors are left with better space for LASIK correction, after the Thin Flap surgery method is done, as it ensures better corneal strength, with no thick flap.
Conventional Lasik is suggested to the patients, who are not ready to pay for thin flap SBK Lasik Surgery in Pune. The treatment process for both is almost the same. The only difference remains in the thickness of the flap. Thin Lasik is specially prescribed in cases of such patients, whose corneal thickness is insufficient. Patients can restrain form experiencing the complications of conventional LASIK, like eye dryness, in SBK LASIK.
SBK LASIK, which is actually the combination of Thin Flap Lasik and Advanced Aspheric Lasik, is known to be beneficial for both the eyes. It starts from Rs. 50,000.
SBK Lasik Laser Surgery and its benefits:
Corneal Biomechanics, strength & stability maintenance
Speedy visual recovery
Improved quality of vision
lesser complications, few glare, less halos
Less cases of eye dryness after operation
Less cases of corneal sensitivity loss
Patients with higher levels of myopia can avail this
Thinner corneas can under Lasik with SBK technology
Available Technologies
Custom Aspheric Lasik
Wavefront Guided Lasik
Optimized Lasik
SBK Customized Aspheric Lasik Surgery Cost in Pune
Rs 15500 / Eye to Rs 20000 / Eye
Prices of SBK Customized Lasik Surgery in Pune may varies & we run special discounts time to time so offer best value for money.
Features
Remove Corneal Irregularities
Remove Optical Path Irregularities
Pupillary Axis Treatment
FDA Approved
Best Value for Money
90 Micron Flap Thickness
I always wanted best Lasik Laser Surgery for my eye which should be latest in market. After seeing lots advertisement & online search I become confused & concerned whether I will ever get rid of Glasses. I sincerely give by gratitude to Centre for Lasik Pune people for guiding us to best Lasik Centre & offering me lowest Lasik Laser Surgery rates for best Lasik Procedure.
My brother wanted to get rid of his glassed as he was planning for arm forces. We came to know about Centre for Lasik Surgery Pune through google search & got the best discount for best lasik technology by best lasik laser eye surgeon in Pune. He is now enjoying his life without glasses & very very happy, thank to you whole team, with best regards, Chitra
I was completely befuddled whom to accept & where to go. However lasikinpune.com unprejudiced direction helped me accomplishing Right Lasik Laser Surgery @ reasonable rates. Presently I am free of Glasses & Contact Lenses
I must say that the place is really good and has a good team of doctors. I did inquire abt the ilasik treatment at some other places but at the end got it done from Lasik surgery Pune and i m really Happy abt it.I have been wearing specs since very long and now feels like a different person all together I would recommend this place to everyone
I had my lasik surgery there, they are very good at the service with latest technology and they care their patient very well............ pls go ahead with them if needed.
I am really thankful and so glad that I made my eye surgery from this place which is the best place for Lasik eye surgery in affordable price. From my childhood I used to wear glasses but in few minutes they make me free from my glasses.
I have been wearing Glasses for 13 years & desperately looking for Lasik Treatment for my Eyes. We are grateful for all support provided by Centre for Lasik Pune guiding us to Right Lasik Laser Surgery at my nearest location of my residence. Now my vision is clear & sharp than before. Thanks
My father was completely confused which centre to opt for best & most reasonable Lasik Surgery. I got selection in Merchant Navy & my interview date has come & i want to get rid of my glasses before my interview. I have very high number with cylindrical power in both eyes. I desperately need the best Lasik treatment @ most reasonable rates. My father needs very unbiased & expert opinion for best Lasik Surgery & where. Through, internet search we come across, Lasik in Pune dot com, the expert in giving right advice about Lasik procedure in Pune. We followed the suggestion given by Lasik in Pune dot com and opted for 100% Blade Free Lasik Surgery in Pune at lowest rates ever before. The best FDA approved technology combined with 100% Blade Lasik @ lowest rates given me best value for money results. I am very very happy to see whole world without glasses NOW:))
Write us for Eye Surgery Cost, Consultation & Discount!!!