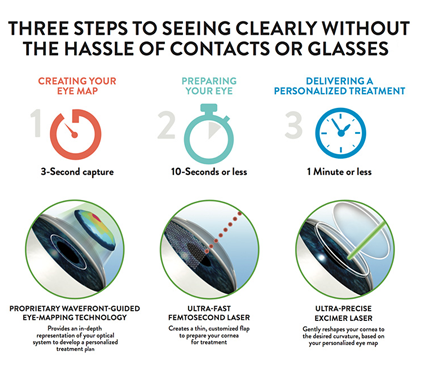 100% Blade Free Lasik Surgery Pune
100% Blade Less Lasik simply used for correcting near and far-sightedness in vision in Pune. It is also referred as laser eye surgery or laser eye correction.
Intralase Lasik Laser or Blade Free Lasik Laser in Pune is a highly precise, safe and reliable technique to create corneal flap. Using Blade Free Lasik Technology, Lasik Laser Eye Surgery is made better by replacing Mechanical Microkeratome Device's Blade with a computer-guided laser that delivers micron-level accuracy. Bladeless laser technology to create thin corneal flap. 
This is the first step before firing the Lasik Laser for correction of Refractive error. IntraLase Laser help Lasik Surgeon to create a corneal flap of exact diameter, depth, hinge location, centration, and overall architecture, making this technology more accurate and more precise than a hand-held blade.
LASIK technology has evolved over a period of two decade from mechanical flap making technqiue to 100% Blade Free Lasik Technique., ensuring highest safety & best best ever outcome in vision correction process. Microkeratome is a device with handle, along with highly precise blade made of oscillating metal, used precisely cut the flap of cornea, yet has some possibility of complication. Patients usually have a misconception, and assume LASIK to be a blade free process, as they do not get to know the use of microkeratome, for corneal flap making.
However, with passing days, the conventional LASIK method has improved to quite some extent. The conventional LASIK process has got evaluated to standard Lasik, Customized Lasik and even Advanced Aspheric Lasik, in last two decades. Inventions of SBK Lasik, iFS or Femtosecond Laser in Pune, especially for blade free laser have been created for complication free results. Patients can enjoy better corneal strength; through this process of Thin flap Lasik, as it leaves with thinner corneal flap and better scope of performing further LASIK. Reasonability of the treatment process is another advantage of the system.  Patients, who cannot spend a whole lot of money for thin flap Lasik, can conventionally switch to regular Lasik. The only difference between these two, remain in the thickness & quality of the flap, if in case, the corneal thickness of the patient is not adequate, then the doctors prescribe for thin flap.
We are dedicated the prospective patients of LASIK laser, with the right set of information, so that; they end up choosing the best destination for blade free LASIK surgery in Jaipur. The experts of our team are focused on helping the patients and their respective family members; in selecting the most pocket friendly centers for high end blade free LASIK, with 100% accuracy. We can be assured to have scent percent right detailing about professional blade free Lasik with us.
Through iLasik or better known as IntraLase, it eliminates or minimizes your post operative eye dryness and other complicated symptoms. Eye glare and halo issues, would never bother you anymore, once you are done with the modern iLasik, along with clearer vision.
Avail totally Blade Free Lasik Surgery along with Advanced Aspheric Wavefront Customized Technology at just Rs 90,000 for both eyes, today!
You can be a candidate for this if,
Your general health state is good and the age meets the age limit. Besides that, you should have the followings details to opt for iLasik:
Your age is at least of 18 years of old or above
The general state of your health is good
You have the consistent vision related prescription for at least one year
You are not having any existing eye disease
Advantages of iLASIK or Blade Free Lasik or IntraLase: 
High quality vision
Higher Safety
Higher corneal strength
Very few retreatment
Lasik Vision Correction with thinner cornea
Less dry eye symptoms
Best eye predictability and precision
Thinner, stronger and accurate flaps
Available Technologies
Custom Lasik
Wavefront Guided Lasik
Optimized Lasik
Femtosecond Blade Free Customized Lasik Surgery Cost in Pune
Rs 40000 / Eye to Rs 55000 / Eye
Prices of Blade Free or Bladeless Customized Lasik Surgery in Pune may varies & we run special discounts time to time so offer best value for money.
Features
100% Blade Free Laser
Remove Corneal Irregularities
Remove Optical Path Irregularities
Pupillary Axis Treatment
FDA Approved
Best Value for Money
90 Micron Flap Thickness
I always wanted best Lasik Laser Surgery for my eye which should be latest in market. After seeing lots advertisement & online search I become confused & concerned whether I will ever get rid of Glasses. I sincerely give by gratitude to Centre for Lasik Pune people for guiding us to best Lasik Centre & offering me lowest Lasik Laser Surgery rates for best Lasik Procedure.
My brother wanted to get rid of his glassed as he was planning for arm forces. We came to know about Centre for Lasik Surgery Pune through google search & got the best discount for best lasik technology by best lasik laser eye surgeon in Pune. He is now enjoying his life without glasses & very very happy, thank to you whole team, with best regards, Chitra
I was completely befuddled whom to accept & where to go. However lasikinpune.com unprejudiced direction helped me accomplishing Right Lasik Laser Surgery @ reasonable rates. Presently I am free of Glasses & Contact Lenses
I must say that the place is really good and has a good team of doctors. I did inquire abt the ilasik treatment at some other places but at the end got it done from Lasik surgery Pune and i m really Happy abt it.I have been wearing specs since very long and now feels like a different person all together I would recommend this place to everyone
I had my lasik surgery there, they are very good at the service with latest technology and they care their patient very well............ pls go ahead with them if needed.
I am really thankful and so glad that I made my eye surgery from this place which is the best place for Lasik eye surgery in affordable price. From my childhood I used to wear glasses but in few minutes they make me free from my glasses.
I have been wearing Glasses for 13 years & desperately looking for Lasik Treatment for my Eyes. We are grateful for all support provided by Centre for Lasik Pune guiding us to Right Lasik Laser Surgery at my nearest location of my residence. Now my vision is clear & sharp than before. Thanks
My father was completely confused which centre to opt for best & most reasonable Lasik Surgery. I got selection in Merchant Navy & my interview date has come & i want to get rid of my glasses before my interview. I have very high number with cylindrical power in both eyes. I desperately need the best Lasik treatment @ most reasonable rates. My father needs very unbiased & expert opinion for best Lasik Surgery & where. Through, internet search we come across, Lasik in Pune dot com, the expert in giving right advice about Lasik procedure in Pune. We followed the suggestion given by Lasik in Pune dot com and opted for 100% Blade Free Lasik Surgery in Pune at lowest rates ever before. The best FDA approved technology combined with 100% Blade Lasik @ lowest rates given me best value for money results. I am very very happy to see whole world without glasses NOW:))
Write us for Eye Surgery Cost, Consultation & Discount!!!