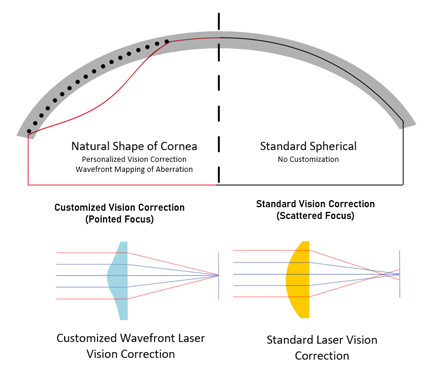 Thin Flap Customized Lasik Pune
Customized Lasik Surgery in Pune simply used for correcting near and far-sightedness in vision. It is also referred as laser eye surgery or laser eye correction.
Customized Lasik in Pune – A great treatment initiative, adopted by the surgeons, in order to retain the actual aspheric curved shape of human cornea. This is latest addition to the LASIK surgery. In fact, this is considered to be a more improved method, compared to Standard Lasik Laser Eye Surgery and offer better quality of vision.
LASIK technology, introduced by different companies is known to be a little different companies, such as Carl Ziess, Alcon Wavelight Laser, Basuch & Lomb, Nidek, Abbott Medical Optics (Advanced Medical Optics), may look minutely different in kind, but the core idea of treatment remains the same, in all the cases.
Customized Aspheric Treatment Zone allows the patients with higher refractive numbers, to avail the considerable advantages of LASIK laser treatment. Surgeons focus on aborting all the indiscretions on the cornea surface, through this advanced treatment. Patients get to maintain the original shape of the cornea, which in a way help them to control the night vision symptoms. This technique is also reported to help in increasing contrast sensitivity.
Patients with irregularity on the surface of cornea can opt for this surgery, especially when they require individual removal. Those, who are not having optically round eyes, instead of having regular corneal surface, can rely on Optimized Wavefront. This website brings in the lowest cost options for Aspheric Lasik Surgery, for the patients of Pune.
Available Technologies
Custom Ashperic Lasik
Wavefront Guided Lasik
Optimized Lasik
Customized Lasik Surgery Cost in Pune
Rs 17500 / Eye to Rs 22500 / Eye
Prices of Customized Aspheric Lasik Surgery in Pune may varies & we run special discounts time to time so offer best value for money.
Features
Remove Corneal Irregularities
Remove Optical Path Irregularities
Pupillary Axis Treatment
FDA Approved
Best Value for Money
90 Micron Flap Thickness
I always wanted best Lasik Laser Surgery for my eye which should be latest in market. After seeing lots advertisement & online search I become confused & concerned whether I will ever get rid of Glasses. I sincerely give by gratitude to Centre for Lasik Pune people for guiding us to best Lasik Centre & offering me lowest Lasik Laser Surgery rates for best Lasik Procedure.
My brother wanted to get rid of his glassed as he was planning for arm forces. We came to know about Centre for Lasik Surgery Pune through google search & got the best discount for best lasik technology by best lasik laser eye surgeon in Pune. He is now enjoying his life without glasses & very very happy, thank to you whole team, with best regards, Chitra
I was completely befuddled whom to accept & where to go. However lasikinpune.com unprejudiced direction helped me accomplishing Right Lasik Laser Surgery @ reasonable rates. Presently I am free of Glasses & Contact Lenses
I must say that the place is really good and has a good team of doctors. I did inquire abt the ilasik treatment at some other places but at the end got it done from Lasik surgery Pune and i m really Happy abt it.I have been wearing specs since very long and now feels like a different person all together I would recommend this place to everyone
I had my lasik surgery there, they are very good at the service with latest technology and they care their patient very well............ pls go ahead with them if needed.
I am really thankful and so glad that I made my eye surgery from this place which is the best place for Lasik eye surgery in affordable price. From my childhood I used to wear glasses but in few minutes they make me free from my glasses.
I have been wearing Glasses for 13 years & desperately looking for Lasik Treatment for my Eyes. We are grateful for all support provided by Centre for Lasik Pune guiding us to Right Lasik Laser Surgery at my nearest location of my residence. Now my vision is clear & sharp than before. Thanks
My father was completely confused which centre to opt for best & most reasonable Lasik Surgery. I got selection in Merchant Navy & my interview date has come & i want to get rid of my glasses before my interview. I have very high number with cylindrical power in both eyes. I desperately need the best Lasik treatment @ most reasonable rates. My father needs very unbiased & expert opinion for best Lasik Surgery & where. Through, internet search we come across, Lasik in Pune dot com, the expert in giving right advice about Lasik procedure in Pune. We followed the suggestion given by Lasik in Pune dot com and opted for 100% Blade Free Lasik Surgery in Pune at lowest rates ever before. The best FDA approved technology combined with 100% Blade Lasik @ lowest rates given me best value for money results. I am very very happy to see whole world without glasses NOW:))
Write us for Eye Surgery Cost, Consultation & Discount!!!